There are a number of reasons that could cause your dog to pant in the car. Discover what they are and make your next ride more enjoyable!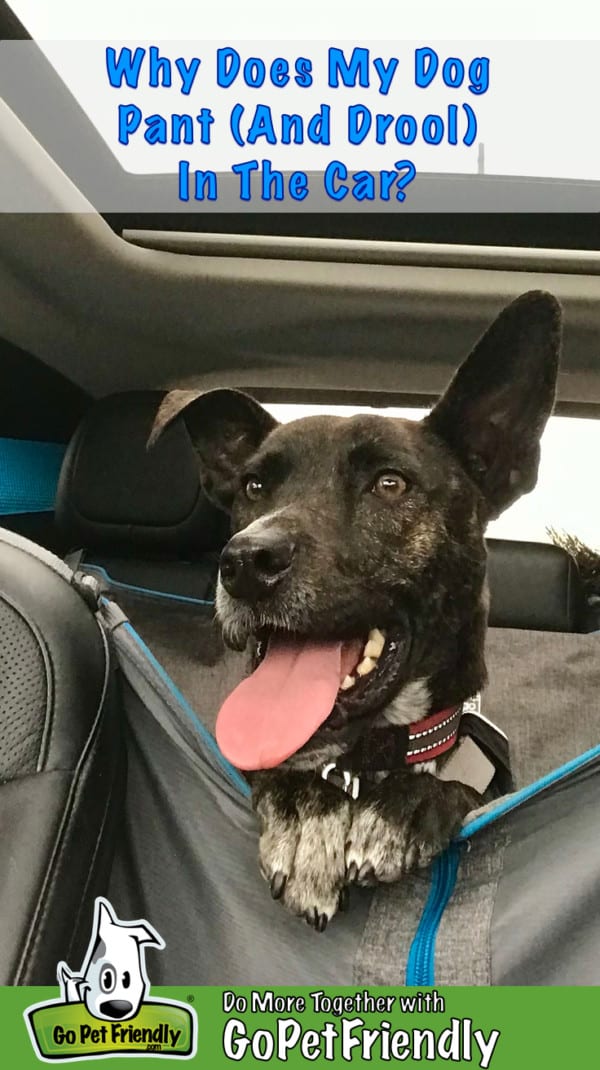 Dogs are amazing travel companions! And whether we're running errands around town or traveling cross country, we want them to be comfortable during the drive. Understanding what could be causing your dog to pant in the car will make your adventures more fun for you both!
Last month, Myles and I took a cross-country road trip. About three days into our journey he started panting for an hour when we left each morning. This was a new behavior for him, so I looked into possible causes. And I thought if I wanted to know, you might, too!
What Does Panting Look Like?
Panting is when dogs breathe with an open mouth. Their breathing is usually faster, sometimes their tongues hang out, and panting is often accompanied by drooling. It's a normal canine behavior and there are a lot of reasons why dogs do it.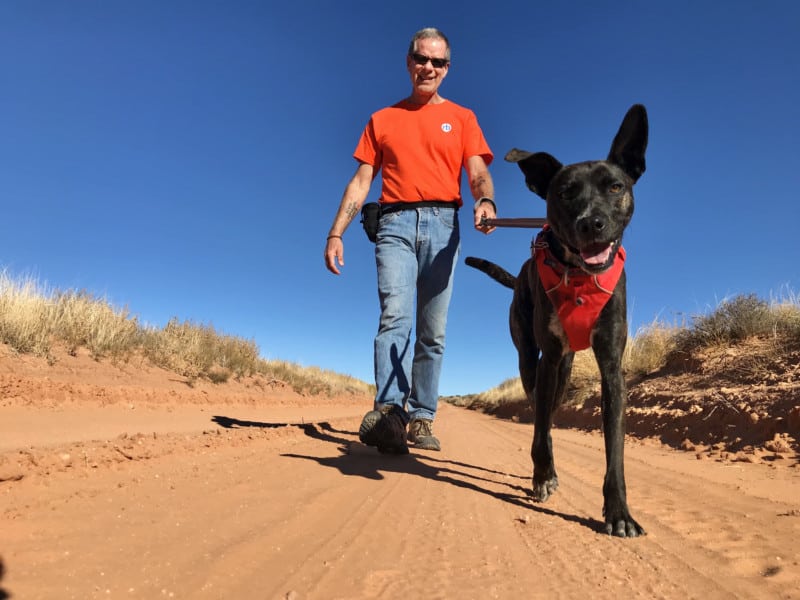 Why Do Dogs Pant?
Dogs pant for a lot of reasons! It's a way to quickly catch their breath after exercising. Dogs also pant when they're afraid, anxious, excited, happy, hot, overheated, in pain, stressed, thirsty, or uncomfortable.
It's important to keep in mind that some panting is completely normal. But if the panting is accompanied by wheezing, whining, or other sounds of distress, you should call your dog's veterinarian immediately. Excessive panting can mean your dog is having difficulty breathing or having an allergic reaction.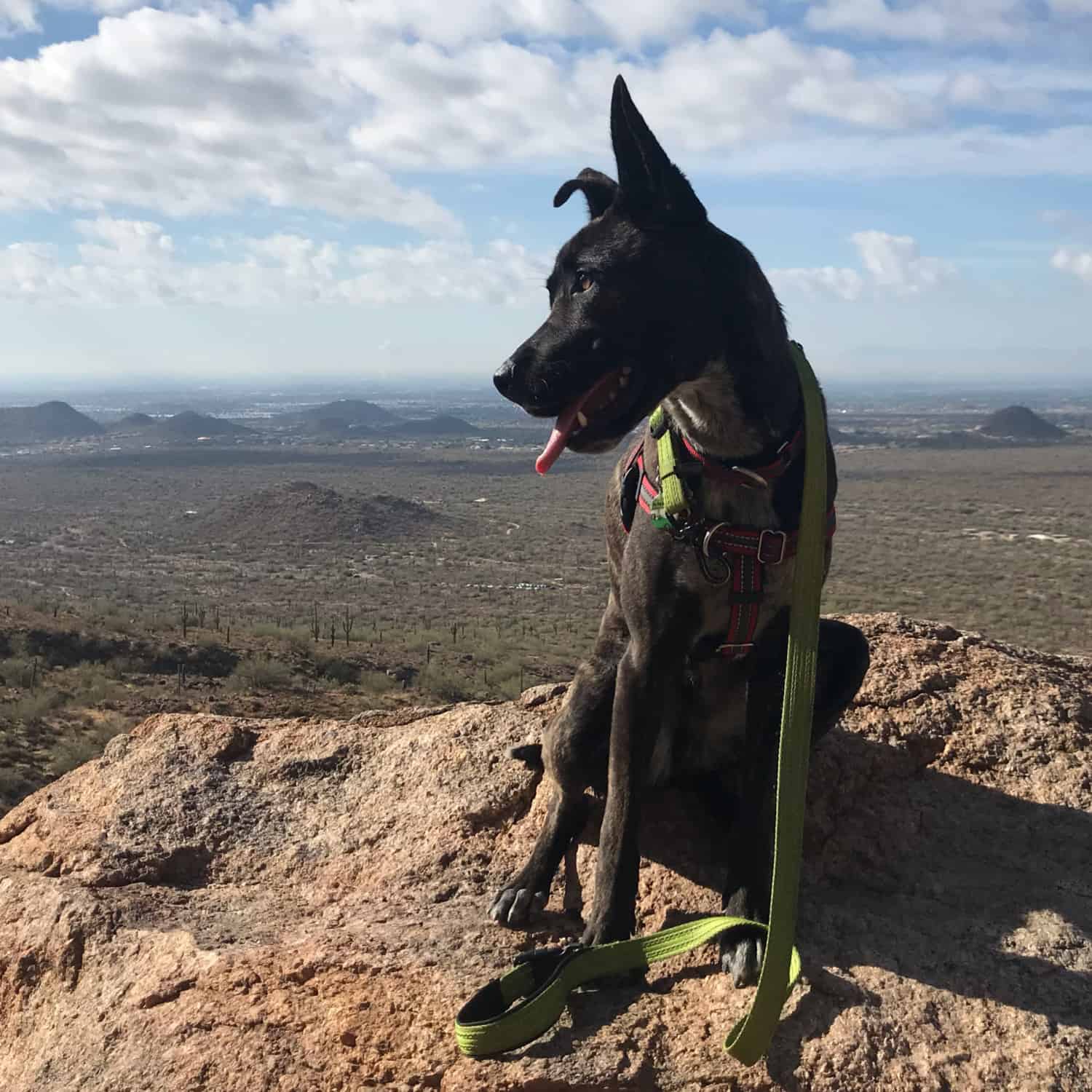 Why Might Your Dog Pant In The Car?
For dogs, riding in the car can bring up a lot of emotions: excitement, happiness, apprehension, overstimulation, anxiety, fear … or some of all of these! He also might be warm or thirsty. Or he could be letting you know that it's time for a bathroom break. Knowing your dog will help you better understand what might be causing him to pant in the car.
Learning To Ride In The Car
Your dog might pant because he isn't familiar with riding in the car or hasn't gone for a ride in a long time. In this case, his panting could indicate he's feeling some anxiety or fear. After all, cars are big, noisy, and move fast!
In this case, you'll want to start with short trips to build your dog's confidence. Make sure some of those early trips end in fun places, like a friend's house or a walk in the park.
READ MORE ⇒
My Dog Hates The Car – Now What?!
The Easy Stuff
If your dog is normally comfortable riding in the car, he might be panting because he's too warm, thirsty, or needs a bathroom break.
These are easy things to fix! Make a stop to stretch your legs, get a drink of water, and adjust the vents or air conditioning so your dog has plenty of ventilation.
Excited Panting
If he seems otherwise happy, your dog might be panting because he's excited to be in the car. You've done well! He loves being with you, and has learned that the car takes him to fun new places or somewhere he enjoys, like a hiking trail or out for ice cream.
Usually panting from happiness or excitement will slow down and stop as your dog relaxes. If he's panting longer than you'd like, try taking the novelty out of your car rides. That could mean calmly putting him in the car a couple of times a week, driving around for 10 to 15 minutes, and then returning home. When your trips are more routine, he'll stop betting overly excited when it's time to go.
READ MORE ⇒
Best Crash-Tested Car Harnesses For Dogs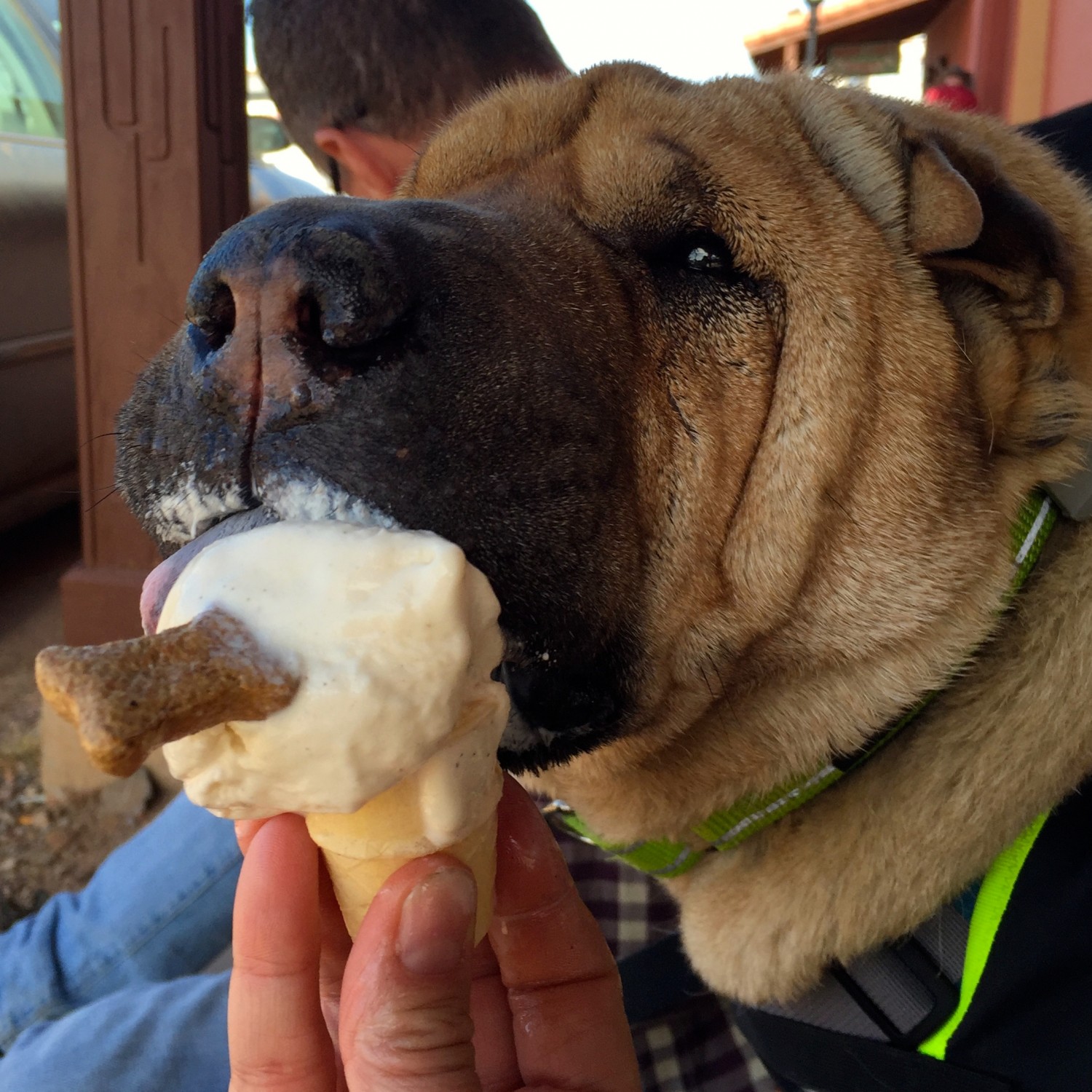 Car Sickness Can Cause Dogs To Pant
Dogs that suffer from motion sickness will often pant and drool in the car. Not every dog will vomit from car sickness, but that doesn't mean they're not feeling yucky!
For some dogs, just anticipating the nausea that begins when the car starts moving is enough to make them pant and drool.
If you think your dog might have motion sickness, it's best to start with a visit to the vet. This can help eliminate any underlying medical issues that could be mimicking the symptoms, like an ear infection or high blood pressure. They can also prescribe medication that will help your dog feel better in the car.
READ MORE ⇒
What To Do If Your Dog Gets Motion Sickness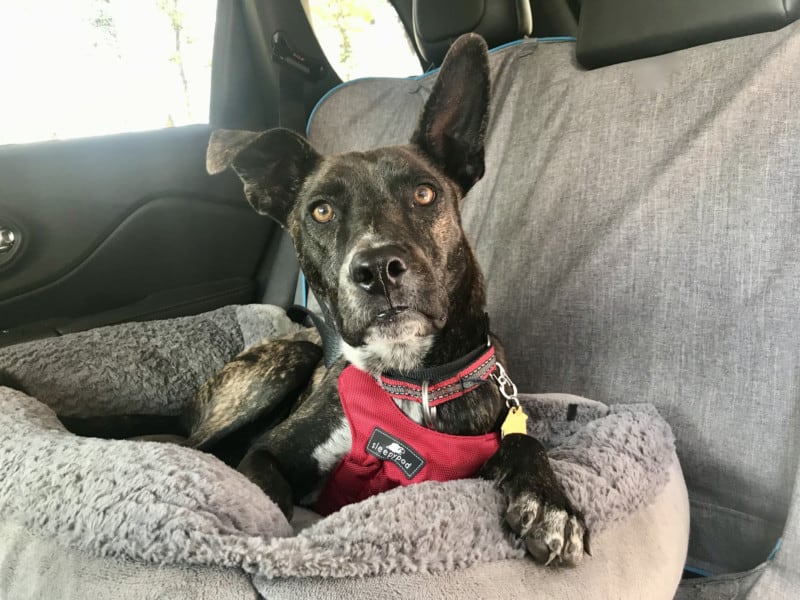 Overstimulation Can Cause Panting
If your dog pants in the car and seems fixated by what's going on around him, he might be overstimulated. This is more common in dogs that are very attentive to their environment, especially members of the herding breeds.
Our German Shepherd, Buster, used to get overstimulated watching on-coming traffic while riding in the motorhome. To help him, we hung a shower curtain behind the driver and passenger seats to block his view out the windshield.
The best way to manage overstimulation is to limit what your dog can see from inside the car. You might need to get creative! Try blocking the window next to where he sits, having him ride inside a secured carrier or crate, or training him to lie down while you're driving.
Sudden Anxiety In The Car
Sudden anxiety in the car can develop from a medical issue. For example, arthritis can cause pain on bumpy roads or when navigating corners. And blindness or deafness can cause your dog to find the experience of riding in the car scary.
If your dog suddenly develops a fear of the car, discuss it with your veterinarian. If there isn't a medical explanation for changes you're seeing talk to a behaviorist or positive reinforcement trainer to develop a plan to help you and your dog.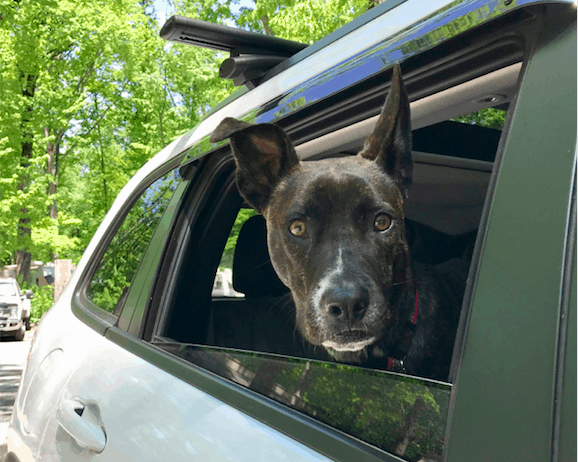 Myles Is Back To Himself
I'm still not exactly sure what was causing Myles to pant in the car on our road trip. My guess is that it was a combination of excitement and overstimulation. (He feels compelled to look for horses and cows along the way.)
The fact that it was just him and me might also have had an impact. He's used to Rod being along to do the navigating. Maybe the pressure of being the navigator got to him? Either way, since we got back, he's been calm and relaxed in the car.
I hope this article helps you figure out what's causing your dog to pant in the car. Let me know in thecommentsif you come up with a solution!
Amazon Affiliate Disclosure: GoPetFriendly.com LLC is a participant in the Amazon Services LLC Associates Program, an affiliate advertising program designed to providea means for website owners to earn advertising fees by advertising and linking to amazon.com, audible.com, and any other website that may be affiliated with AmazonService LLC Associates Program. As an Amazon Associate, the owner of this site earns a commission from qualifying purchases.
(Visited 4,447 times, 1 visits today)
FAQs
It's a way to quickly catch their breath after exercising. Dogs also pant when they're afraid, anxious, excited, happy, hot, overheated, in pain, stressed, thirsty, or uncomfortable. It's important to keep in mind that some panting is completely normal.
How do you calm a dog from panting in the car? ›
Keep Your Dog Hydrated – always provide clean and fresh water for your dog so it won't get dehydrated. Decrease Car Anxiety – you can either train your dog to calm down from new or strange things or let your pet take anxiety treatment BEFORE going out for a car trip.
Why is my dog panting and whining in the car? ›
Although many dogs look forward to riding in the car, other dogs dread the experience and whine, drool, or even vomit. This can be due to motion sickness, a previous bad event in the car like an accident, or anxiety about being trapped inside a giant, moving machine.
How do I stop my dog from panting and shaking in the car? ›
You can begin by giving your pup his or her favorite treat when they first get into the car. Then continue treating them intermittently on the trip when they are exhibiting more calm behavior. This type of encouragement can eventually lead your dog to think of a car ride as fun and rewarding.
What does panting in dogs indicate? ›
It's normal for dogs to pant, especially when they're hot, excited, or energetic. Heavy panting is different, though, and may be a sign your dog is dangerously overheated, coping with a chronic health problem, or has experienced a life-threatening trauma.
Why does my dog breathe so hard in the car? ›
The Easy Stuff

If your dog is normally comfortable riding in the car, he might be panting because he's too warm, thirsty, or needs a bathroom break. These are easy things to fix! Make a stop to stretch your legs, get a drink of water, and adjust the vents or air conditioning so your dog has plenty of ventilation.
Why does my dog hate the car so much? ›
Your dog might hate car rides for several reasons, including anxiety or motion sickness—or he may simply sense your stress and react to it. A shaky-kneed, carsick dog can put a damper on your travels, but you can still take him on adventures if you work to overcome his backseat woes.
How do I know if my dog is panting too much? ›
Can I give my dog Benadryl to calm him down? ›
One of the side effects of Benadryl is drowsiness, which helps to calm anxious dogs. The Merck Veterinary Manual states that diphenhydramine may relieve symptoms of mild-to-moderate anxiety in pets associated with travel. It also may help relieve motion sickness.
Where should a dog sit in the car? ›
Once your pet is inside your vehicle, how and where they ride is also important. Wolko says they should always ride in back seat. Pets in the front seat can be a distraction to the driver.
Most dogs don't pant for long and their breathing is back to normal within a few minutes. But if your pooch is panting for longer than 10 minutes then it's a sign that they are probably overheating or suffering from another illness.
Can I put a wet towel on my dog to cool him down? ›
Wet, cool towels

Wet your dog's coat or drench a towel in cool, but not really cold, water and drape it over your dog. This will really help in lowering body temperature and is a crucial step in cooling down a dog suffering from heatstroke before getting them to the vets.
Why does my dog pant and shake when riding in the car? ›
Dogs pant in the car due to temperature, dehydration, car sickness, or because they're afraid or excited due to a lack of exposure and proper introduction to car rides. Panting is an essential mechanism as you'll find out in a minute since that's how dogs regulate their body temperature.
How do dogs pick their favorite person? ›
But most dogs tend to bond to the person who gives them the most attention. For example, in a family with two parents and two kids, the dog may favor the parent who fills their bowl every morning and takes them for a walk every evening. In addition, physical affection solidifies the bond between dog and person.
What does dog anxiety look like? ›
Anxiety in dogs is a lot like anxiety in people. One of the most difficult ways that anxiety affects a dog is through behavior. Your anxious dog may become aggressive, bark a lot, growl, or even bite. Or it may be the complete opposite, hiding and running away when it feels threatened.
Is it normal for dogs to pant a lot? ›
Panting is a normal behavior for happy and active dogs. It helps dogs cool themselves down because they can't sweat like humans do. Panting allows a dog to rapidly inhale, humidify, then exhale the air, which increases the evaporation of water from your dog's nose and lungs.
Why is my dog panting so fast while resting? ›
If you notice that your dog is breathing fast while at rest, or breathing fast while sleeping, they could be experiencing respiratory distress. Contact your vet if you notice any of the following signs: Noticeably labored breathing (engaging stomach muscles to help breathe) Pale, blue-tinged or brick red gums.
Why is my dog panting and restless all of a sudden? ›
Anxiety is the most common cause of panting and restlessness in dogs without other clinical signs. Just like humans, dogs can experience stress and anxiety that can negatively impact their health and happiness and causes changes to the dog's behavior.
Why do older dogs pant heavily? ›
Elderly and obese animals are more likely to pant due to heat, exercise, fear and excitement. Your vet team can discuss your pet's weight, and help with a weight loss program if needed. Short-nosed breeds (brachycephalics) such as boston terriers, pugs and bulldogs are more susceptible to heatstroke.
Do dogs pant when they are in pain? ›
Breathing Changes

Dogs experiencing pain may have a faster and more shallow breathing pattern than normal. They may also pant. You may even notice a change in the movement of the abdominal muscles and/or those of the chest.